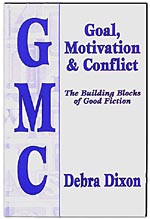 You can read the book or Google "goal, motivation, conflict" to find in-depth analysis and even worksheets on how to apply these concepts to your story. But here are the basics.
What does your main character want? That's his/her goal.
Why does the character want these things? That's his/her motivation.
What stands in the character's way of achieving what she wants? That's the story conflict.
If you're writing a romance, the hero and heroine should each have their own goals and motivations, which should bring them into direct conflict with each other.
Put it all together and you have a compelling, believable story.